Version 3.2 (codename: St Austell)
This summer a collaboration between SUPERFLEX and Cornwall's St Austell Brewery will produce FREE BEER (version 3.2), launching at Tate St Ives, as part of the exhibition "social systems" organised by ProjectBase and taking place across the county.
The new Cornish FREE BEER will be brewed with Cornish spring water from the Brewery's private well and created with premium Maris Otter barley, grown locally in Cornish fields.
Tate St Ives, Tate Britain, Tate Liverpool and Tate modern will have the new beer available for sale until September and will launch FREE BEER with a challenge to the 'grey matter' when ProjectBase hosts the FREE BEER Cornish International All-Comers Pub Quiz Challenge on Sunday 8 July at 7.30pm at Tate St Ives.
The beer will also be for sale in pubs, restaurants and hotels across Devon and Cornwall and at the St Austell Brewery Visitor Centre and online at www.staustellbreweryshop.co.uk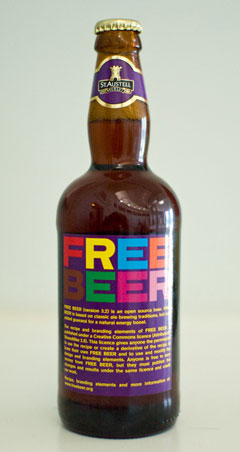 Photo: Ian Kingsnorth

Roger Ryman, Head Brewer at St Austell Brewery Co Ltd and recently voted UK Brewer of the Year 2006 said, "St Austell Brewery are very excited about the 'Free Beer' concept. This allows us to share ideas with other brewers around the world, whilst imparting our unique local accent onto the brewing of the beer. FREE BEER from St Austell shares its malt and hop blend with other versions of the beer, but is uniquely brewed with Cornish spring water from our own well, whilst our premium Maris Otter barley is grown locally in Cornish fields. Added guaraná gives a final flourish to FREE BEER."
Sara Black Director of ProjectBase and curator of the exhibition says, "The whole ProjectBase ethos centres around bringing new international artistic collaborations to Cornwall and widening the experience of contemporary art with new audiences. FREE BEER certainly achieves those aims and it's been fantastic to work with Roger and the St Austell Brewery team who have been extremely open minded and committed. We've had the hard job of having to taste test the results and we're looking forward to seeing drinkers getting the FREE BEER round in and experiencing contemporary art for the first time in their local pub!"
Executive Director of Tate St Ives, Mark Osterfield added, "Tate St Ives is delighted to be part of this interesting project which has given us a unique opportunity to work with ProjectBase, St Austell Brewery and Tate Catering, demonstrating how a work of art can engage diverse groups in new partnerships, and create a project which will extend beyond the gallery walls into people's daily lives."
St Austell Brewery
Founded in 1851, St Austell Brewery is known to be one of the oldest businesses in Cornwall and is one of only 32 Independently Family Owned Brewers in the UK. The company brews four regular cask ales: Tribute, Tinners, IPA and HSD and are most famous for Tribute which now accounts for over 50% of their production. Tribute was voted the South West's favourite beer in two recent awards.
The company markets its real ales nationally which also includes two keg versions Cornish Cream and Duchy and the bottled beer range consists of HSD, Tribute, Admiral's Ale and Clouded Yellow. The company is growing with total annual turnover in 2006 of £85 million. It owns 167 pubs and is the South West's largest wholesale distributor of beer, wines and spirits, serving more than 2000 free trade accounts, from pubs, clubs, hotels and other licensed outlets in Cornwall, Devon, Somerset and Dorset.
Voted UK Brewer of the Year 2006 by the British Guild of Beer Writers, Roger Ryman has been Head Brewer at St Austell Brewery since 1999 and when he joined he was the UK's youngest Head Brewer. Formerly of McClays Brewery, Roger moved from the most northerly family brewery to the most southerly.