FREE BEER BBQ
Please join us at 1301PE for the LA release of SUPERFLEX's FREE BEER (version 4.1)
Wednesday 18. August 5-8pm, 6150 Wilshire Blvd. Los Angeles.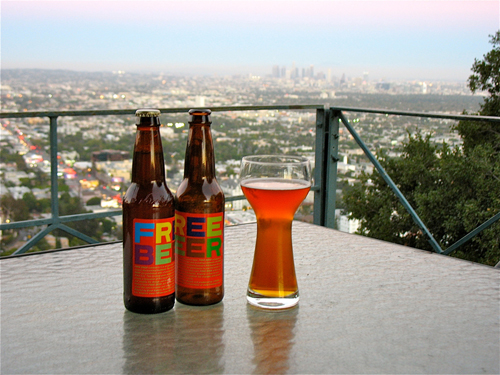 FREE BEER is based on classic ale brewing traditions. The recipe and branding elements of FREE BEER are published under a Creative Commons (Attribution – ShareAlike 2.5) license, which means that anyone can use the recipe to brew their own FREE BEER or create a derivative of the recipe. Anyone is free to earn money from FREE BEER, but they must publish the recipe under the same license and credit our work. All design and branding elements are available to beer brewers, and can be modified to suit, provided changes are published under the same license ("Attribution and ShareAlike").
FREE BEER is a beer which is free in the sense of freedom, not in the sense of free beer. The project, originally conceived by Copenhagen-based artist collective Superflex and students at the Copenhagen IT University, applies modern free software/open source methods to a traditional real-world product – namely the alcoholic beverage loved and enjoyed globally, and commonly known as beer.